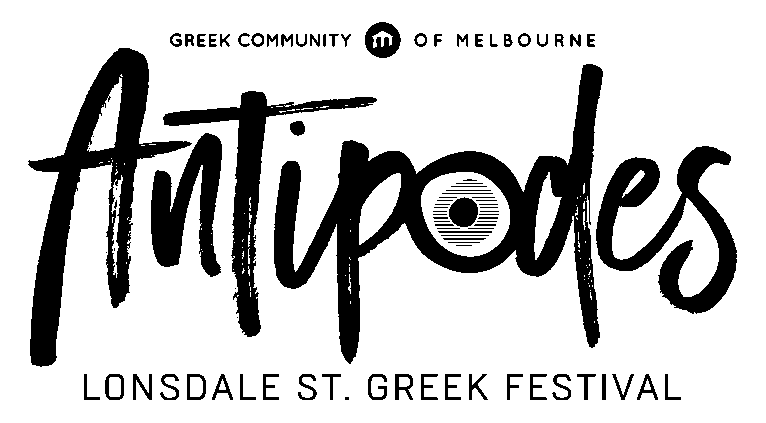 Antipodes Festival Event Notices &Amp; Program
When
Where Lonsdale Street
Entry Free
Event Details
The festival runs this Saturday and Sunday trading on Saturday from 11AM to 11PM and Sunday from 10am to 10pm.
Road closures will be affected as follows:
Lonsdale Street between Swanston and Jones Lane (West of Exhibition Street) and Russell Street between Little Lonsdale and Little Bourke Street will be shutting down on Friday 21 October at 10PM and reopening on Monday 24 October at 5AM.
Please note that traffic access to Russell Street just south of Little Lonsdale and Russell Street North of Little Bourke to access both the QV Car Park and Wilson Car Park at the Mantra Hotel will remain open.
If you have any concerns, please do not hesitate to call on 9662 2722
Please find the link below which details the disruptions to bus services in Lonsdale Street and alternate stops
https://www.ptv.vic.gov.au/disruptions/disruptions-information/article/route-200-207-250-251-302-304-905-906-and-907-temporary-bus-stop-closures-from-10pm-friday-21-october-to-last-service-sunday-23-october-2022


ANTIPODES FESTIVAL PROGRAM
*Program subject to change
SATURDAY 22 - BENDIGO BANK MAIN STAGE
12:00 - Zorba 'Til You Drop - Dance Competition
16:40- "Pontiaki Estia"- Senior Dance Group
17:10 - "O Periklis- Senior Dance Group
17:35 - Paradosi - Dance Group
18:05 -The Cultural Centre of Florinians "O Aristotelis" - Dance group
18:30 - Presentation of All Nations Cup Team Greece
18:50 - Alphington Choir
20:30 -Nikos Vertis - Feature act

SUNDAY 23- BENDIGO BANK MAIN STAGE
11:00 - Rythmos LIVE
13:30 - Omados - Band
14:15 - Alphington Grammar School
14:45 - Pegasus Dance Academy- Seniors Dance group
15:35 - Greek Dance Group Collaboration-Dance group
16:05 - Giannis Tsourdalakis & Giorgos Psarakis -Band
17:00 - Cretan Brotherhood -Senior Dance group
17:25 - Pancretan Association of Melbourne - Senior Dance group
17:50 - Dimitris Varnas Epirotiki Kompania-Band
17:50 - Epirotiki Kompania- Band
18:40 - GCM Dance Group-Dance group
18:55 - Greek Orthodox Community of S.A Dance Academy
19:10 - GCM Dance group
19:05 - Greek Orthodox Community of S.A. Dance Academy -Dance group
19:30 -Akrites tou Pontou- Dance group
20:00 – Anagennisi - Band


SATURDAY 22- #LOVELONSDALE STAGE
11:00 - Rythmos Live DJ Set
12:15 - Freedom Dance Fitness - Dance group
12:30 - Cooking Demonstrations
14:35 - Rebetika Enseble - Band
15:30 - Oikogenia Anastasiadis -Band
16:10 - Omados- Band
17:05 - St Johns-Dance group
17:30 - That Changes - Band
18:25 - Cretan Brotherhood-Senior Dance group
18:50 - Agapi & Friends - Band
20:10 - Demotika - Band
21:05 - Giannis Tsourdalakis & Giorgos Psarakis- Band

SUNDAY 23- #LOVELONSDALE STAGE
12:15 – DANCEGR -Dance group
12:30 - Cooking Demonstrations
14:30 - Totally Kicking Brass -Band
15:25 - Pontiaki Estia-Junior Dance group
15:45 - Cretan Brotherhood - Intermediate Dance group
16:15 - Pegasus Dance Academy- Juniors Dance group
16:40 - Family Drama - Band
18:00 – Delyrium - Band
18:55 – Eirinaki - Band
19:50 - Pancretan Association of Melbourne -Intermediate Dance group
20:15 - Giannis Tsourdalakis & Giorgos Psarakis - Band



SATURDAY 22- AA HOLDINGS STAGE
11:00 - Inspirit Dance Fitness-Dance group
11:20 - VALIA GIANINSKA - Singer
11:40 - Opa- Cize - Dance group
12:10 - "O Periklis"- Junior Dance group
12:35 - Greek Classical Guitar with Sophia - Band
13:25 - O Periklis- Intermediate Dance group
13:50 - ST JOHN'S COLLEGE School Band & Bouzouki Ensemble - Seniors
15:00 - That Changes - Band
15:40 - Dimotika Allios - Solo Musician
16:20 - Dimitris Varnas Epirotiki Kompania - Band
17:55 Anthea Belly dancer with Zabelle
18:40 - Giannis Tsourdalakis & Giorgos Psarakis -Band
19:35 - Gales Edge -Greek Rock Band
20:30 - Cats and the Canary - Band
21:25 - Kosmos Events - Dj set
SUNDAY 23- AA HOLDINGS STAGE
11:00 - Rythmos LIVE
12:35 - Freedom Dance Fitness -Dance group
13:00 - Bulgarian Folk Dance Group 'Bulgari' -Dance group
13:35 – Arhontisses -Dance group
13:55 - club Kalymnian -Dance group
14:25 - Rebetes tou Notia -Band
15:20 - Paradosi Dance School-Dance group
15:40 - Pegasus Dance Academy-Dance group
16:05 - THE PHILHELLENES WITH GEORGE BUTRUMLIS - Band
17:00 - Gales Edge - Band
17:55 - Dio Patrides Band
18:50 - Agapi & Friends - Band
19:45 - Cats and the Canary - Band
20:40 - Fotis Vergopoulos - Band
Sponsors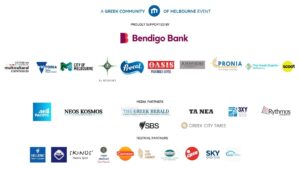 Proudly supported by
BENDIGO BANK
VICTORIA MULCTICULTURAL COMMISION
AA HOLDINGS
THE GREEK QUARTER
CITY OF MELBOURNE
ANT1 PACIFIC
PROCAL DAIRIES
PRONIA
OASIS
JOANNIDES FUNERALS
LANGUAGE

English

CATEGORY

Festival

EVENT SERIES

Antipodes Festival > Antipodes 2022

SERIES DATES

Saturday, 22/10/2022 – Sunday, 23/10/2022

PRESENTED BY

The Greek Community of Melbourne
Get the latest Greek Communitynews in your inbox