Event Details
Galatea Kazantzaki (nee Galatea Alexiou) (1884–1962), was born in Heraklion Crete. Daughter to eminent, publisher and author Stylianos Alexiou and sister to author, novelist and academic Ellie Alexiou, Galatea was one of the most prolific female authorial voices in Greek Modernism. And yet, to this date, she remains one of the most understudied Greek writers in Anglophone literature.
Her surname, associated with her first husband Nikos Kazantzakis, seems to have had a negative impact on her recognition as a major female author of the 20th century Greek Arts and Letters. The lecture on Galatea Kazantzaki will introduce her first years when, as a fledgling author, she was trying her pen in a largely male dominated, literary canon.
Her emergence and consistent contribution to Greek literature, journalism, and political activism was not only heavily debated but it was also often derided as subsidiary to or lacking the rigor of her male counterparts.
The lecture will provide a closer look at her multifaceted, idiosyncratic approaches to poetry, translation, essay, novel and drama. First conceived during the period of Greek aestheticism and modernism, Galatea's works span through the decades of interwar years, the German occupation and post-World War II Greece until her untimely death in 1962.
The lecture will attempt to shed new light on an important female author whose impact and artistic value are still pending appreciation and acknowledgement from the global community.
About Dr Anna Fyta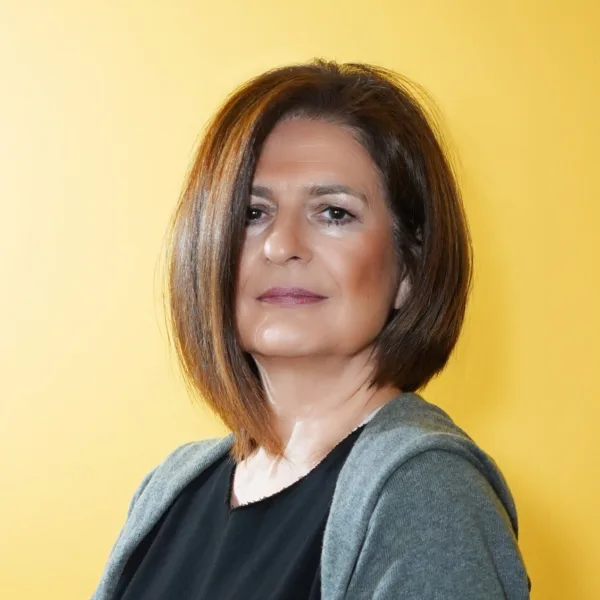 Anna Fyta's doctoral and comparative literature research work center on Modernist poetry and the reception of Greek Classics. Her doctoral thesis explores the dialogue of the American Modernist poet H.D. (Hilda Doolittle) with ancient Greek dramatist Euripides. Parts of her research and academic work involve the interdisciplinary conversations of American women poets with classical Hellenism and Greek mythology. Her essay on H.D.'s "Translation as Mythopoesis: Helen in Egypt as Meta-Palinode," was published in The Classics in Modernist Translation (2019) by Bloomsbury Academic. In her article "Dramatic Heterotopias and Transformations of Mythic Space" which appeared in the journal Ex-centric Narratives (Aristotle U., 2020), she interprets Joan Jonas's post-conceptual project Lines in the Sand alongside H.D.'s epic poem Helen in Egypt. Her essay "Galatea Kazantzaki Alexiou (1884–1962): A Modernist Greek Author's Decadent Poetics" (2021) appeared in Feminist Modernist Studies. As guest editor, she is currently working for a forthcoming, special issue of Ex-centric Narratives: Journal of Anglophone Literature, Culture and Media published by Aristotle University in Thessaloniki. Anna Fyta teaches English and American Literature at Athens College, Greece.

Sponsors
We thank Roma Siachos for the kind donation that makes seminars like this possible.

During the course of the year considerable expenses are incurred in staging the seminars. In order to mitigate these costs individuals or organisations are invited to donate against a lecture of their choice.
You too can donate for one or more seminars and (optionally) let your name or brand be known as a patron of culture to our members, visitors and followers, as well as the broader artistic and cultural community of Melbourne. Please email: info@greekcommunity.com.au or call 03 9662 2722.
We thank the following corporate sponsors:
Delphi Accounting, Symposiarch Wines and the Kastellorizian Association of Victoria Inc.
LANGUAGE

English

CATEGORY

Education

EVENT SERIES

Greek History and Culture Seminars > Greek History and Culture Seminars 2023

SERIES DATES

Thursday, 02/03/2023 – Thursday, 05/10/2023

PRESENTED BY

The Greek Community of Melbourne

FEATURING

Dr Anna Fyta

M.C.

Nick Dallas

MAJOR DONORS

Delphi Accounting, Symposiarch Wines and the Kastellorizian Association of Victoria Inc.
Get the latest Greek Communitynews in your inbox