Greek Lives on Indigenous Lands: Community Responsibility and the Ethnic Experience of Coloniality
presented by Daphne Arapakis
When
Where

Was at Greek Centre ( but a recording is available on:

YouTube

)

Entry Free
Event Details
How do Greek Australians relate their experiences of migration to Australia's history of colonialism? In this seminar, I will address this question by sharing some of my early PhD research which explores the modes by which Greeks in Australia represent their sense of belonging. Drawing on articulations of historical consciousness in Greek diasporic expressions that are locatable in Australian film and media, I will illustrate that there are ethnic-specific ways of relating to Indigenous calls for sovereign recognition.
Bringing diaspora studies into dialogue with the lingering legacies of colonialism, I will share a new analytical framework termed ethnic compartmentalisation. By foregrounding how segments of the Greek diaspora justify their settlement on Indigenous lands, I will argue that ethnic compartmentalisation is a mode by which Greeks in Australia skilfully separate or leverage parts of their migrant histories to either associate or disassociate with the legacy of British colonialism and Australian multiculturalism. Identifying how Greeks compartmentalise conflicting histories to make sense of themselves on Indigenous lands, my research reveals that a barrier is formed that impedes fulsome support for Indigenous peoples' political aspirations.
The presentation will conclude by offering potential avenues for members of the Greek diaspora in Australia to rework understandings of their pasts, redefine the parameters of community building, and to stand in solidarity with First Nations peoples' calls for justice and political change.
My conclusionary remarks will be particularly salient when considered within the context of the upcoming referendum on the Voice to Parliament.
About Daphne Arapakis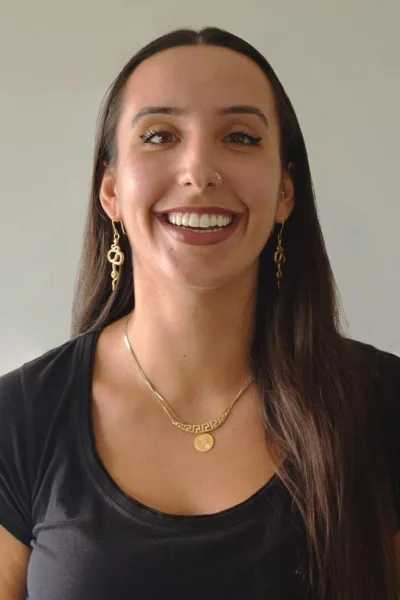 Daphne Arapakis is a PhD Candidate in the School of Social and Political Sciences at the University of Melbourne. Her thesis, 'Mediterranean Diasporas, Indigenous Sovereignties: The Ethnic Dimensions of the Settler Colonial Present' explores the dynamics of ethnic-Indigenous relations in Australia.
Daphne has worked as the Policy and Research Officer at the Koorie Youth Council and volunteered for the Asylum Seeker Resource Centre. In 2023, she was awarded the Helen Macpherson Smith Trust Scholarship and the Faculty of Arts Dean's PhD Excellence Scholarship Award.
Research for this seminar presentation was recently published in the article "Ethnic Compartmentalisation: Greek Australian (Dis)Associations with White Australia and Indigenous Sovereignty" in the Journal of Intercultural Studies.

How to Participate
This is an in-person event only, so please join us at the Greek Centre, on the Mezzanine Level (Press M in the elevator).
See our speaker live, ask questions during the Q&A and hobnob with fellow participants before and after the event.
We look forward to seeing you there.
Sponsors
During the course of the year considerable expenses are incurred in staging the seminars. In order to mitigate these costs individuals or organisations are invited to donate against a lecture of their choice.

You too can donate for one or more seminars and (optionally) let your name or brand be known as a patron of culture to our members, visitors and followers, as well as the broader artistic and cultural community of Melbourne. Please email: seminars@greekcommunity.com.au or call 03 9662 2722.
We thank the following corporate sponsors:
Delphi Accounting, Symposiarch Wines and the Kastellorizian Association of Victoria Inc.
LANGUAGE

English

CATEGORY

Education

EVENT SERIES

Greek History and Culture Seminars > Greek History and Culture Seminars 2023

SERIES DATES

Thursday, 02/03/2023 – Thursday, 05/10/2023

PRESENTED BY

The Greek Community of Melbourne

FEATURING

Daphne Arapakis

M.C.

Nick Dallas

MAJOR DONORS

Delphi Accounting | Symposiarch Wines | Kastellorizian Association of Victoria Inc.
Get the latest Greek Communitynews in your inbox