Events
: PUBLISHED WORKS | BOOK LAUNCH
EVENTS | PUBLISHED WORKS | BOOK LAUNCH
Book Fair 2023
Book Launch: Jim Claven
When
Where Greek Centre
Entry Free
About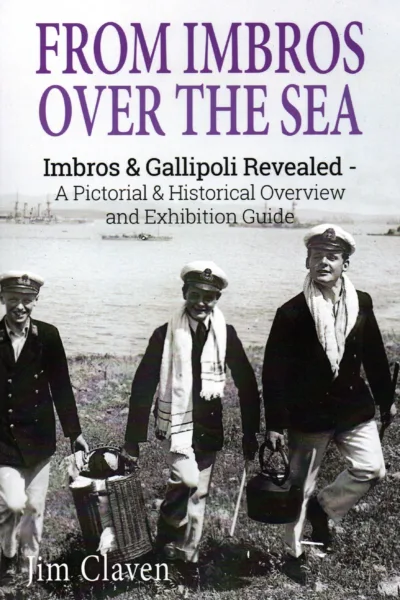 Jim Claven is a trained historian, having gained his academic qualifications from Melbourne's Monash University. He is a published author and freelance writer, researching into various aspects of Hellenic culture and history and its impact beyond Greece for over ten years, with a particular interest in the Hellenic link to Australia's Anzac story. He has published numerous historical articles in a range of journals and newspapers (in Australia and overseas), as well as the books Lemnos & Gallipoli Revealed (published in 2019) and Grecian Adventure (published in 2022) as well as his most recent book From Imbros Over The Sea: Imbros & Gallipoli Revealed (published in 2023). His writings draw on his extensive archival and field research.
He has given historical presentations on various aspects of the Hellenic link to Anzac in Australia and in Greece (including at the Athens War Museum). He has been Secretary of Melbourne's Lemnos Gallipoli Commemorative Committee since its foundation and in that capacity has initiated and/or worked on a range of important commemorative projects, including the Lemnos Gallipoli Memorial in Melbourne's Albert Park, the Australian Pier Memorial on Lemnos, the Lemnos Gallipoli Photographic Exhibition, the Centenary of Anzac Commemorations on Lemnos and the Australian Government's Lemnos Remembrance Trail initiative. He has also initiated and/or worked on a range of other commemorative projects including the recent Imbros & Gallipoli Revealed Photographic Exhibition as well as WW2 Memorials at Pylos and Methone in Greece, the George Treloar Memorial in Ballarat and the Hellenic Australian Memorial in the grounds of Victoria's Parliament.
Historian Jim Claven will be launching his latest publication - From Imbros Over The Sea: Imbros & Gallipoli Revealed.
This book tells the story of the northern Aegean Island of Imbros and the major role it played in the Gallipoli campaign of 1915-16. The safest base close to the Peninsula, Imbros and its harbours would host hundreds of ships and thousands of Allied soldiers and sailors throughout the nearly twelve months of the campaign, including many Australians. It would be transformed by the infrastructure needed for a major military and naval base. These new arrivals would spread across the Island, beyond their main camps at Kephalos Bay, viewing the mountains and valleys of Imbros, crossing its farmlands rich in produce, visiting its towns and villages and meeting its people.
This book and its accompanying Imbros & Gallipoli Revealed Exhibition brings to life the story of the link between Imbros and Gallipoli for the first time, from records and photographs held in archives across the world.
The book comprises some 132 pages telling the Imbros-Gallipoli story in detail, includes a detailed timeline listing key events concerning Imbros connection to Gallipoli, references for further reading and is illustrated with 80 photographs and 3 original maps from the Exhibition.
For more information: https://lemnosgallipolicc.blogspot.com/2023/09/imbros-gallipoli-revealed-new-book.html
The book is published by the Imvrian Society of Melbourne Inc, 2023. Price: $35.
LANGUAGE

English

CATEGORY

Published Works > Book Launch

EVENT SERIES

Book Fair > Book Fair 2023

SERIES DATES

Saturday, 25/11/2023 – Sunday, 26/11/2023

PRESENTED BY

The Greek Community of Melbourne
Get the latest Greek Communitynews in your inbox