The Other Side of the Moon: Constructing an Anthology of Greek Outsider Writing
presented by Michael Alexandratos
When
Where

Was at Greek Centre ( but a recording is available on:

YouTube

)

Entry Free
Event Details
This talk surveys the authors and writings from an anthology in progress titled "The Other Side of the Moon: Greek Outsider Writing (1840-present)." Featuring the gallomanic "Poetic Tracts" of Yorgios Exarchopolous, the proto-surrealist prose of Michaïl Mitsakis, the epigrams of Lesbos-born eccentric Armandos Dellapatridis and the writings of the insane collected by Kostas Varnalis—this anthology positions itself as an alternative history of Modern Greek literature; one that extends as far back as the early decades of the Greek nation-state.
Edited by Michael Alexandratos, this anthology collects writings from the mad, eccentric or otherwise marginalised individuals who operated on the fringes of dominant literary movements. The emerging category of "Outsider Writing"—the literary equivalent of Roger Cardinal's 1972 formulation of "Outsider Art"— is used to conceptualise these authors and their idiosyncratic poetics.
Although the definitions and scope of this term are still being debated, it provides a useful framework for which to understand these writers and their place in Modern Greek literature. This talk will argue that instead of ghettoising these writers, the use of the term "Outsider Writing" offers readers a way to appreciate and recognise voices in Greek literary history that have existed outside the realms of the normal.

About Michael Alexandratos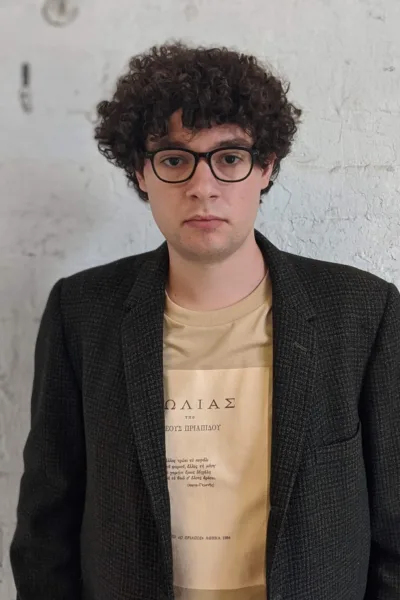 Michael Alexandratos (b. 1997) is a writer, researcher and publisher based in Sydney, Australia. He runs the small imprint Cycladic Press, which is dedicated to publishing books on Modern Greek literature and culture, as well as the blog and record label Amnesiac Archive, which focuses on unexplored areas in music and recorded sound. He is currently working on an anthology of Greek outsider writing.
How to Participate
This is an in-person event only, so please join us at the Greek Centre, on the Mezzanine Level (Press M in the elevator).
See our speaker live, ask questions during the Q&A and hobnob with fellow participants before and after the event.
We look forward to seeing you there.
Sponsors
We'd like to thank the Kastellorizian Association of Victoria for the kind donation that makes seminars like this possible.
During the course of the year considerable expenses are incurred in staging the seminars. In order to mitigate these costs individuals or organisations are invited to donate against a lecture of their choice.

You too can donate for one or more seminars and (optionally) let your name or brand be known as a patron of culture to our members, visitors and followers, as well as the broader artistic and cultural community of Melbourne. Please email: seminars@greekcommunity.com.au or call 03 9662 2722.
We thank the following corporate sponsors:
Delphi Accounting, Symposiarch Wines and the Kastellorizian Association of Victoria Inc.
LANGUAGE

English

CATEGORY

Education

EVENT SERIES

Greek History and Culture Seminars > Greek History and Culture Seminars 2023

SERIES DATES

Thursday, 02/03/2023 – Thursday, 05/10/2023

PRESENTED BY

The Greek Community of Melbourne

FEATURING

Michael Alexandratos

M.C.

Nick Dallas

MAJOR DONORS

Delphi Accounting | Symposiarch Wines | Kastellorizian Association of Victoria Inc.
Get the latest Greek Communitynews in your inbox