2022 Greek Book Fair Exhibitor: Despina Meris
2022 Greek Book Fair Exhibitor: Despina Meris
Despina Meris is a Melbourne-based writer and editor. Her work has been published in International Traveller, Luxury Travel, and Holidays for Couples, as well as Neos Kosmos newspaper, where she was also Lifestyle Editor. (See examples of her work at www.despinameris.com)
Her extensive infertility research has led her to engage with online forums about domestic and international surrogacy, adoption, miscarriage support, and egg donor selection.
She has fifteen years of marketing experience – including at The Age newspaper – and is a graduate of New York University and the London School of Economics.
Every Conceivable Way is her debut memoir, published by Hardie Grant. Available in Australia on 1 April, and in the UK on 1 July.
About the book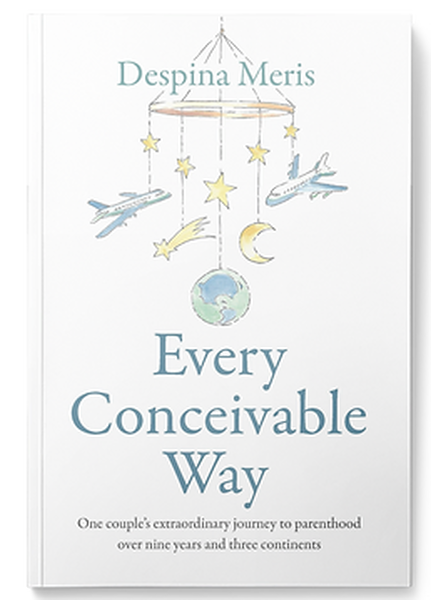 Every Conceivable Way recounts one couple's nine-year quest to become parents while giving an inside peek into the IVF and surrogacy industries, the fertility merry-go-round, and what it's like to live for years with uncertainty.
After relocating to Australia from New York, Despina Meris and her husband, Bill, settle down to baby-making. What they never expect is a string of heartbreaking unexplained miscarriages, even with the help of IVF. They turn to surrogacy – first in India, then in Ukraine and finally in
Thailand, where their baby is conceived.
But more drama unfolds when, overnight, they
are caught up in the Thai government's crackdown on commercial surrogacy, leaving them with no way of contacting their pregnant surrogate.
Every Conceivable Way, a real-life story that is stranger than fiction, asks how far you would go before you call it quits when it seems like all the odds are stacked against you.
Published by Hardie Grant, Australian publication date: 1 April 2020
Get the latest Greek Communitynews in your inbox