2022 Greek Book Fair Exhibitor: Peter Andrinopoulos
2022 Greek Book Fair Exhibitor: Peter Andrinopoulos
For over 30 years Peter Andrinopoulos has worked professionally to support members of the Greek Community, He has worked for the Greek Orthodox Archdiocese, the National Centre for Hellenic Studies and Research at La Trobe University, the Greek Community of Oakleigh and collectively for over 16 years at the Australian Greek Welfare Society (PRONIA).
He has provided support for thousands of vulnerable and socially isolated elderly and their carers and assisted hundreds of individuals to gain valuable experience, qualifications, skills and employment. He has supervised administration staff, teachers, researchers & care staff; He has obtained and managed multiple million dollar budgets and coordinated the Oakleigh Glendi and the Antipodes Festival.
Peter has also been an active member of the organised Greek Community for almost 40 years. During this time he has been a National Convenor & Treasurer as well as the Victorian State President and Secretary with the National Union of Greek Australian Students; a Board Member, Street Festival Co-ordinator & Stage Manager with the Antipodes Festival; a Coordinator of two dance productions; a Coordinator of a theatrical production and assisted in the organisation of two International Greek Conferences. He was a Committee Member of the Greek Community of Melbourne, a Coordinator of the Oakleigh Glendi Festival and helped to organise the two Macedonian rallies in 1992 and 1994.
Currently he is an executive committee member of the Victorian Council for the Greek National Day and helped to organise the recent tour of the Hellenic Presidential Guards (Evzones) that came to Melbourne for ANZAC day.
For 20 years he has been the Secretary of the Australian Hellenic Memorial Foundation where he has helped raise $250,000 for the construction and recent refurbishment of the Australian Hellenic Memorial, organised a public presentation aboard the Australian Navy Ship HMAS Torrens, organised commemorative events and organised a student competition that has been running for 12 years since 2010 which has seen the participation of over 2500 students from Prep to Year 12.
As Vice President, along with the rest of the committee, over the last 6 years he has worked towards rejuvenating the Society Kalamata '23 March' and has attracted over 3000 individuals to a variety of social, cultural and educational events.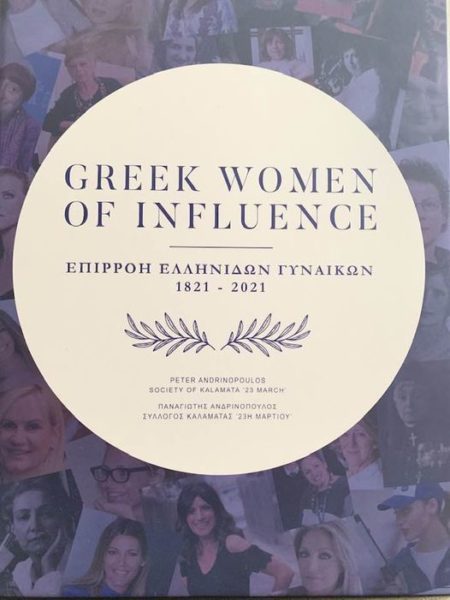 About the Book

The book ties in with one of the pillars of the Greece 2021 committee launched by the Greek Government centred on "Greeks who left their mark on the world in the last 200 years". It is a lasting tribute to significant women's accomplishments of Greek background and in it, you will find women from around the world who have excelled in their field of endeavour.
Get the latest Greek Communitynews in your inbox