Team Greece Wins Its First All Nations Cup
Team Greece Wins Its First All Nations Cup
Greece looked like comfortable winners, leading 3 0 in the 80th min, however two goals in 5 minutes gave South Sudan a glimpse of hope and if it wasn't for a spectacular save by Greece's goalkeeper in the 92nd min, the game could've easily been decided by a penalty shoot-out.
Team Greece held on grimly in the final stages and after 4 minutes of added on time, the referee blew the final whistle and the crowd erupted with joy.
President of the Greek Community, Bill Papastergiadis,OAM was full of praise for the team following the win. "Our lads played with enormous pride throughout the tournament and their resilience and hard work paid off with the ultimate success. Importantly, this victory brought together all Victorians of Greek background. Unity is a strength that our lads demonstrated on the field and which the supporters showed off the field by their attendance at all the games. I congratulate our coaches, George Katsakis and Con Tangalakis, our Team manager Kon Kyranakis, our captain Peter Skapetis and all our players. They came from 20 different clubs around Victoria but played as one under the Hellenic Flag. I would also like to thank Jorge Menidis and Michael Karamitos from the Greek Community together with Kon Kyranakis, who all helped in making this success possible.
It's a proud moment for all of us given the spirit in which the game and the entire tournament was played. This was no more evident than when our players and supporters clapped the South Sudan players, when they received their runner up medals, showing true sportsmanship".
Kon Kyranakis was also glowing with delight after the win. "What an amazing performance by the boys. We were informed during the week that Greece had never won this tournament and that motivated us even more to win today and be the first Greek Team to lift the All-Nations Cup. It was a wonderful group of coaches and players as well as a strong support group led internally by President Bill Papastergiadis, Jorge Menidis and Michael Karamitos".
Coaches George Katsakis and Con Tangalakis partied well into the night with the boys following their huge triumph. "I cannot believe how well this team came together and performed in the manner they did to win Greece's first ever All Nations Cup", said George Katsakis. "I've won many trophies in my career but this one will definitely have a special place in my heart. I will miss coaching these group of young Greek Australian players as we've now created a special bond that can never be broken, and I wish them all the best in their future endeavours to become the best possible footballers that they can be. Also, a very big thank you to all our Greek Community who came out in big numbers and supported our team. We definitely achieved something very special for our community that will last forever".
Finally, Vice President Of the Greek Community, Michael Karamitos, was ecstatic after the win. "This team has galvanised our community and the atmosphere that the tournament has created, especially with Team Greece's involvement and ultimate success, is something that we will cherish
for a very long time. Congratulations to all our players, coaches as well as all our supporters, as without them, this would not have been possible. A big thank you to our two major sponsors, Steve Tsalikidis from Windsor Management Insurance Brokers as well as Chris Pavlidis from Athletes Foot Camberwell and we look forward to The All Nations 2023 Cup where Team Greece will have the opportunity to defend its title".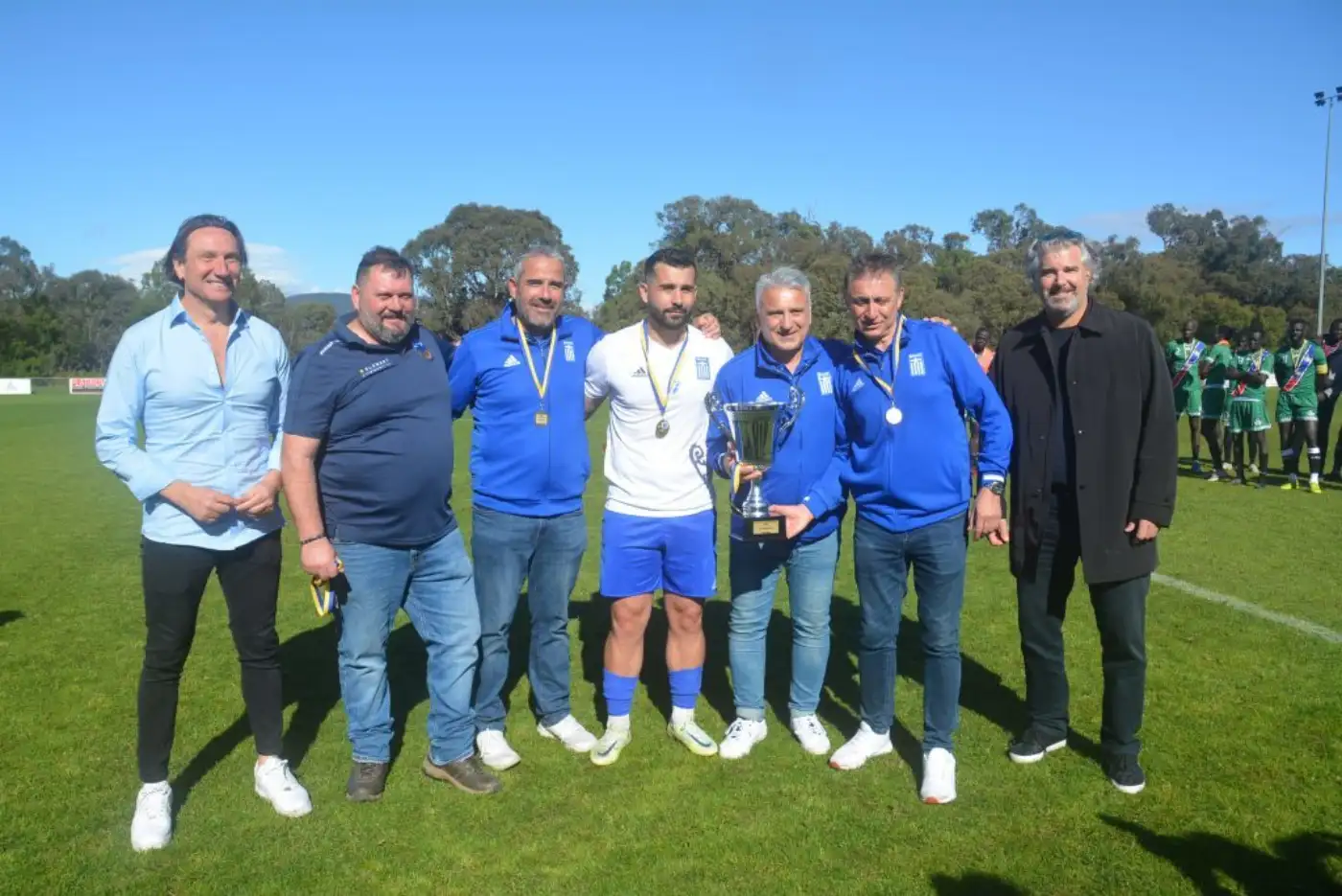 Get the latest Greek Communitynews in your inbox