The Greek Film Festival Expands Into Palace Balwyn Cinema
The Greek Film Festival Expands Into Palace Balwyn Cinema
The Greek Community of Melbourne is thrilled to announce the addition of Palace Balwyn Cinema to its 2023 Greek Film Festival venue offering.
Along with Palace Cinema Como and the Astor Theatre in Windsor, the introduction of Palace Balwyn Cinema, will allow the festival to reach a wider audience to which it can further promote and celebrate the rich tapestry that is Greek filmmaking.
The 2023 Greek film Festival opens on 19 October at the Astor Theatre, Palace Cinema Como and Palace Balwyn Cinema with the multi award-winning feature film by Asimina Proedrou, "Behind the Haystacks".
Described by Screen International as an "intense psychological study of murky morality" the film stars Stathis Stamatopoulos, Eleni Ouzounidou, Evgenia Lavda & Paschalis Tsarouhas.
"Behind the Haystacks" is set during the refugee crisis of 2015 as seen through the eyes of three morally culpable family members with overlapping and contradictory versions of the same experience.
The Greek Film Festival has gained recognition for its dedication to showcasing a diverse range of films, from thought-provoking dramas to heart-warming comedies, all of which capture the essence of Greek culture, history, and creativity.
The Greek Film Festival has become a significant annual event for both Greek diaspora and film enthusiasts of all backgrounds. Patrons can look forward to a carefully curated selection of films that capture the essence of Greek culture, values, and history, while also providing a glimpse into contemporary Greek society.
Final touches to the 2023 Greek Film Festival schedule of eclectic, provocative and inspirational films are being applied by organisers with an announcement of the full program to be made soon.
The Greek Film Festival is presented in Victoria by the Greek Community of Melbourne playing on the Palace Cinemas group's screens.
Media enquiries contact on Heidi Serafimidou on +61 3 9662 2722
or via email Heidi.serafimidou@greekcommunity.com.au
For more festival details and the latest updates check
www.greekfilmfestival.com.au
GREEK FILM FESTIVAL 2023 PRESENTED BY Bendigo Bank

Procal, Oasis, Joannides Funerals, Pronia, Scoot, Sky Express, Greek Quarter, Ant1 Pacific
Festival Partners
Hellenic Wines and Spirits, Bahari I Gringlish, Epsa, Sue Sensi, Vanilla Lounge, Thematikos, Kwikkopy, Carroten, Themida Legal, Clever Little Koalas

Media Sponsors
Neos Kosmos, The Greek Herald, Ta Nea I 3XY, SBS Greek, Rythmos, 3ZZZ, Paroikiaki Tileorasi, Greek City Times, Greek News 24

Tickets for opening night are on sale now: https://greekfilmfestival.com....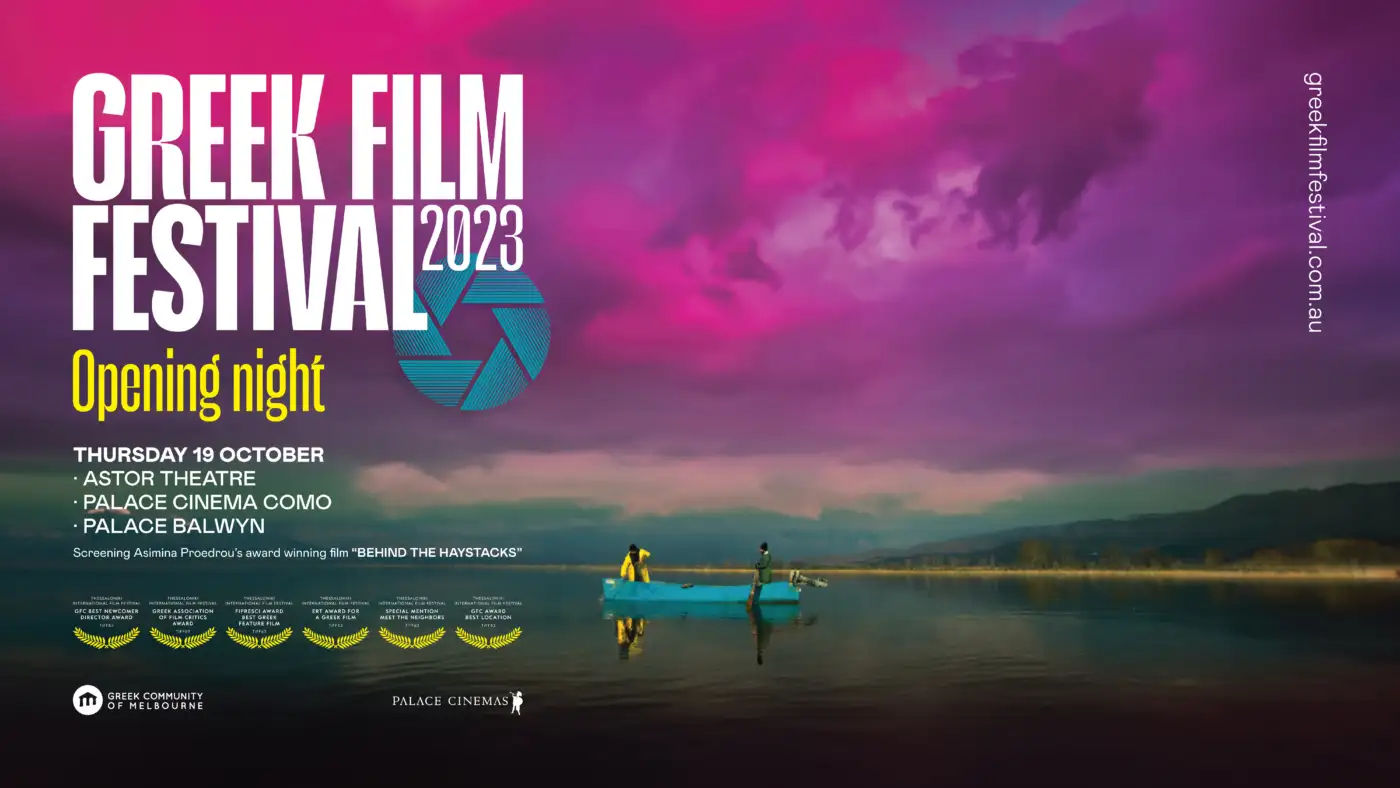 Get the latest Greek Communitynews in your inbox