'Ukrainian Refugees in Greece' Appeal
'Ukrainian Refugees in Greece' Appeal

Greece finds herself at the forefront of another international humanitarian crisis. As at late May, Greece has already received more than 30,000 Ukrainian refugees, of which approximately 80% are women and children. It is very likely these numbers will continue to grow for months, if not years, to come.
Australia's Greek community are invited to show their support for the thousands of Ukrainian refugees fleeing war and arriving in Greece through a new fundraising appeal that has been established in collaboration with a number of community organisations and leaders.
All the funds raised will be provided to the Greek Council for Refugees (GCR) for Greek language classes and resources to be provided to the Ukrainian refugees. Language skills will be vital to their successful resettlement, enabling their full participation in employment and educational opportunities in Greece.
The GCR is a non-government organisation, a registered charity and partners with the United Nations High Commission for Refugees (UNHCR), to provide refugees arriving in Greece with humanitarian assistance, including free legal advice, employment programs, Greek and English language classes and skills-based courses. In 2005, the GCR's work was honoured with an award by the President of the Hellenic Republic, Mr Papoulias.
A committee has been established to oversee the Australian appeal, including the Presidents of the Greek Community of Melbourne and Victoria, the Hellenic Australian Chamber of Commerce and Industry (HACCI), PRONIA and Fronditha.
The appeal also has the support of Greek media organisations, Neos Kosmos and the Greek Media Group.
The President of the Greek Community of Melbourne, Mr Bill Papastergiadis OAM, said: "The Greek Community of Melbourne is proud to support this important humanitarian cause. As a community we have supported Greece in times of crisis. Now Greece has generously welcomed thousands of people fleeing their destroyed homes and their homeland. The Greek diaspora can assist in resettling these families, so they can find jobs and attend schools in Greece. Just as the Greek Community of Melbourne has always promoted Greek language learning through our schools, so now we will help the refugees learn our language and make a new start in their lives."
HACCI Board Chair, Ms Fotini Kypraios, said: "This fundraising effort gives us all an opportunity to assist those fleeing the war in the Ukraine to gain the skills needed to participate in gainful employment, which will undoubtably change their lives. In March, the Greek government announced that it would enable 50,000 jobs to be created in the tourism sector for Greek expatriates and refugees from Ukraine. This fundraising effort will be integral to helping lead the Ukrainian refugees in Greece to a path of self-determination."
The President of PRONIA, Ms Kris Pavlidis, said: "PRONIA has supported the settlement needs of migrants and refugees over the last 50 years and fully understands the importance of providing much needed assistance and resources during the settlement process. PRONIA is therefore pleased to offer its support to this important initiative."
The President of Fronditha, Ms Jill Taylor, said: "Fronditha Care's values, 'do right, respect, inspire better and bring joy' are aligned with the purpose of this initiative and we are committed to supporting the Greek Council for Refugees who have shown compassion and leadership to the Ukrainian refugees, now settled in Greece."
The Chairperson of the appeal, the Hon. Jenny Mikakos said: "We've watched with horror everyday as the war in Ukraine has unfolded and despaired at the plight of these people who have had their homes and cities destroyed. In Australia our parents experienced the challenges of moving to a new country where they didn't speak the language. Let us give the Ukrainian refugees, including their children, a helping hand to a new peaceful life."
The President of the Greek Council for Refugees, Mr Vasileios Papadopoulos, said: "We are grateful to the Greeks in Australia for recognising our work and the support we are giving to the thousands of families arriving from Ukraine every week. We wish your appeal every success."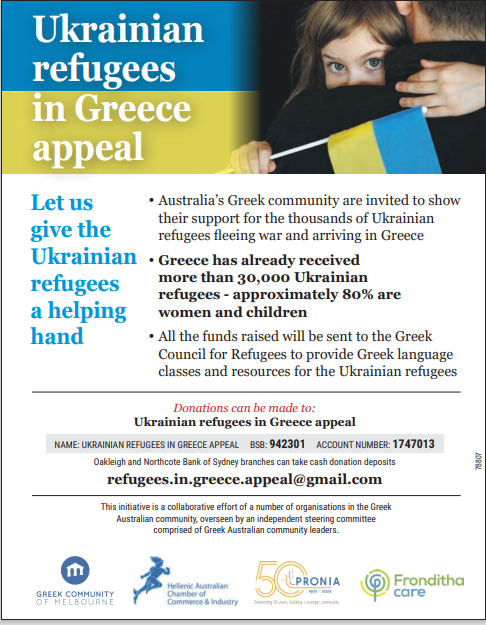 Donations can be made to:
UKRAINIAN REFUGEES IN GREECE APPEAL
BSB: 942301 ACCOUNT NUMBER: 1747013
Oakleigh and Northcote Bank of Sydney branches can take cash donation deposits.
For more information contact: refugees.in.greece.appeal@gmail.com
Get the latest Greek Communitynews in your inbox